Hello, my name is Tim Beckman and welcome to my Square Foot Gardening Page. I have been gardening since about 1988 and gardening in my current location of Indianapolis, Indiana (USDA Zone 5) since 1994.
Current Picture of My Garden (Updated at Least Monthly)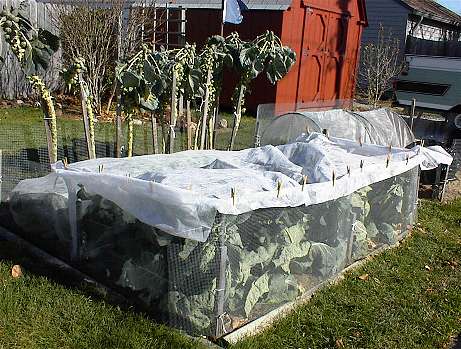 From level two on camera reduce size to 40%. Also might sharpen image
WHAT IS SQUARE FOOT GARDENING?
Square Foot Gardening is a technique of intensive planting developed by a retired civil engineer, Mel Bartholomew, in the 1970's. Mel describes the technique in his book, Square Foot Gardening, as "a system of laying out, planting, and maintaining a productive, attractive garden in any amount of space. The garden is based on a grid of 1-foot by 1-foot squares, with single seeds or plants placed in a carefully determined spacings." Mel goes on to say, "The square foot system lets you make the most of your garden space to conserve the amount of water, soil conditioners, and labor needed to produce a maximum amount of food in that space. A square foot gardening takes only one-fifth the space and work of a conventional single-row garden to produce the same harvest."
SQUARE FOOT GARDENING REALLY DOES WORK!!!
I currently raise vegetables in four 8'x 8' plots and use a slightly "modified" square foot technique These plots are situated next to each other in a square pattern with about a grass strip between each one. The crops I currently raise include Bush Green Beans, Broccoli, Brussel Sprouts, Cauliflower, Cabbage, Lettuce, Onions, Green Peppers, Hot Peppers, and Tomatoes.
Please see the links to the left for more information about my square foot garden and the variety of plants I grow.
I hope you enjoy your visit to my web page. Thanks for stopping by. Please do not forget to sign my guest book.
If you have any questions about my garden or any comments about this site, feel free to send me an e-mail at the following address:


Tim Beckman: tbeckman@indy.net
The midi you are listening to, Grieg's No. 1 Morning, was sequenced by Tom Kelly and is used courtesy of Laura's Midi Heaven

---
The Current Weather In My Garden